Functions of head and body support
The name of this car seat accessories class is very telling. As such, the functions of head and body support systems should be apparent. But are they? They surely support the baby's head, however, this word has too broad of a meaning. After all, car seats support babies' bodies as well. As do beds, cradles, chairs, anything that can be said to accommodate a child. However, the baby car seat head support is a very different thing.
Typically, a head and body support comprises a body pillow with a headrest and is used to keep the baby's posture healthy and optimal, as well as comfortable. It does not usually serve as a medical or rehabilitation device, although exceptions are possible, but it may be used to prevent problems with the spine from developing. It can also prevent SIDS although to which extent remains untested. Even a simple insert might prevent the upper airway from narrowing.
When to use head and body support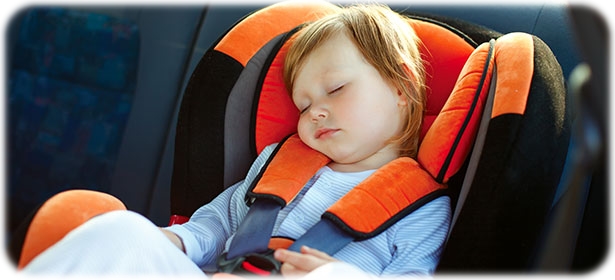 Before we proceed, some things have to be clarified first. Many parents are wondering when they should stop using a head support. Head support is often part of the car seat. Use of this kind of support is indeed limited. It is possible to purchase a separate head and body support, which can be used either as a replacement or as a supplement. If the latter, the head support can be removed at your own discretion. If the former, same limits apply, although we do not recommend replacing the headrest.
The primary factor for head and body support use is the child's own biology. If they are not able to hold their head properly, their neck muscles are weak, or their control over them is weak, the head support must not be removed. If not, it is generally safe to do that, although we do not recommend that affect the child's comfort negatively.
It is possible that the built-in support is not enough for your child. In that case, we recommend purchasing an extra support unless it is a head support insert.
Signs that your baby needs extra support
The baby leans to the side when secured in the car seat.
The baby is restless and obviously uncomfortable with their current seat and support.
The harness is loose. In this case, purchasing a better-suited car seat is a safer option but use of more support is also possible.
If the existing head and body support has been damaged, it obviously needs a replacement. However, it is not recommended to buy any support not explicitly compatible with the car seat.
Medical benefits for infants
A study has been conducted to determine how car seats influence the health of the babies. It has been found that use of a car seat can be a factor contributing to narrowing of the upper airway and oxygen desaturation, although the problem, in general, is undoubtedly multifactorial. Still, one of the leading hypotheses is that that flexion of the head on the body, which exactly what happens when the baby is placed in a car seat, is a very important factor.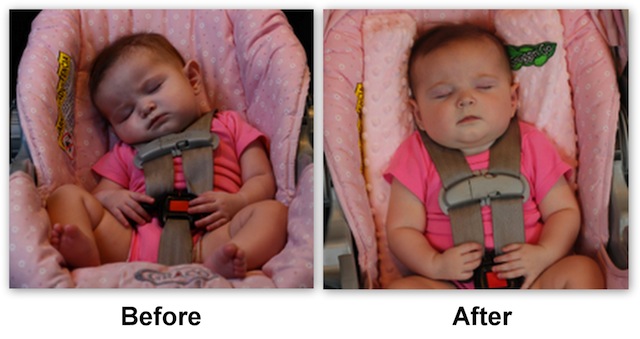 If so, reduction of the flexion should be able to decrease oxygen desaturation rates. And, indeed, it has been found that even a simple foam insert can reduce narrowing or the upper airway substantially.
Top 3 Baby Head Support For Car Seat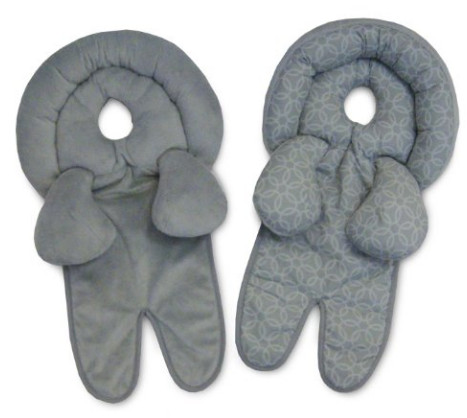 This support is available in two colors as of now: grey and pink. The pink color scheme is more suitable for girls. You should also keep in mind that these two product varieties do not have the same price tag although the difference is insubstantial and might become non-existent at some point in the future.
The support is not made in the U.S. and it is mainly polyester. It is, however, quite warm and easy to clean since it is made of machine-washable fabrics.
This is a two-in-one head support. The headrest can be removed when necessary without the need to remove the entire pad. You can also remove the body support and leave the head support, however, that would simply be unnecessary in most cases.
The support is extremely cozy and it is perfect not just for a car seat but for strollers and joggers as well. The Boppy support has been thoroughly crash-tested and found more than adequate.
This support is perfectly suitable both for colder and warmer weather. It has a minky side and a cloth side. Either of them can be used depending on the weather.
That said, the body support is somewhat thin. Not an issue for most people, such a design still leaves the possibility of a not fully comfortable ride for some infants, although it is definitely a good counter-measure for SIDS.
>>> Get this head support on Amazon <<<
---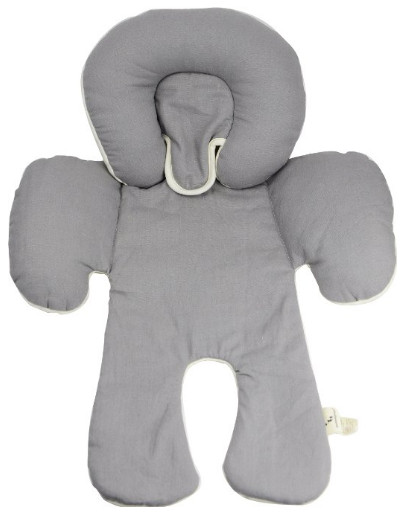 The most distinctive feature this support has is that it mostly comprises natural organic fabrics. Still, although the support is claimed to be made of 100% cotton, this is only true for the outer shell while the filling is 20% polyester. However, such a design does ensure the child does not come in direct contact with synthetic fabrics, only cotton. Of course, natural cotton wrinkles too easily but since this product is not a piece of clothing, such a feature is not exactly an important disadvantage.
The first thing worth notice is the thickness of the head support. This product is indeed rather thick and it is extremely warm. We advise to use it in cold climates. Using it in warmer climates is a possibility but you have to keep in mind that the cotton side is not suited for them. Thankfully, this support has a reversible design and the other side, layered with moisture control fabric, is an adequate solution to warmer climates.
The head support is easy to attach, adjust and remove. The body support is padded on the sides but not in the back so that it would not interfere with the car seat function.
>>> Get this head support on Amazon <<<
---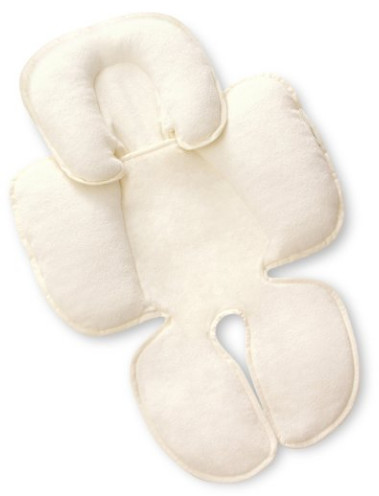 The Snuzzler is not made in the U.S. but other than that, it is a perfect head and body support not just for babies but for preemies as well. Compatible with car seats, strollers, and swings.
Made of cotton, the Snuzzler is a perfect example of an organic head and body support. The head support, just like with the other two products, is separate and Velcro-adjustable. It has a reversible design for different climates as well.
The support has been extensively crash-tested and found to meet standard FMVSS213. It comes in several light color-schemes. Much like the DorDor & GorGor support, this one is only has padded sides. The back does not affect the harness's performance. At the same time, it is still very soft and comfy.
The Snuzzler is very easy to clean although you should keep in mind that the Velcro parts do not work well with some cleaners.
Even though that Snuzzler is very warm, overheating is not something you should be worried about with this support. The Snuzzler should also be readjusted from time to time since in shifts a little bit when in use. However, it does not mean it requires an adjustment after every single trip.