What a baby car mirror is
Without context, most people would not realize what a baby car seat might be like, unless they are parents who have one. That said, this website in itself is a good context indicator. So, if you have not heard of baby car mirrors until now, you still have probably made a guess it has something to do with baby car seats.
If so, you are absolutely right. A baby car mirror is a mirror to help you watch your baby in the rear-facing position.
As we all know, the baby is simply completely hidden from view when in an infant car seat. A baby mirror is applied to either the backseat or the baby car seat in a way that would let you watch the baby's reflection through the car mirror.
When The Mirror Is Needed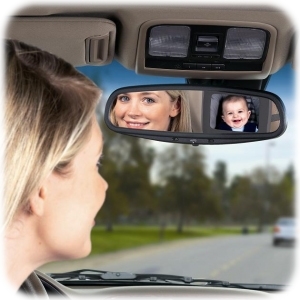 Most of the time, a baby car mirror is used to help you ease your mind so that you would not worry unnecessarily. You might be surprised but that is the first thing that makes baby mirrors necessary. If you think about that, that is actually self-evident.
A worried parent is a poor driver. Your skills are still yours, your reaction time is just as good as ever but your mind is elsewhere. Granted, you can try to check your baby every now and then but you would have to stop your car for that. You cannot do that on the move. You should not even if you can. That is dangerous. Some people even resort to taking pictures of their babies with their phones just to have a look at them.
And if you do resist the temptation, you may easily miss when something really is wrong.
Thankfully, baby mirrors are a perfect solution in such a situation.
Types of baby car mirror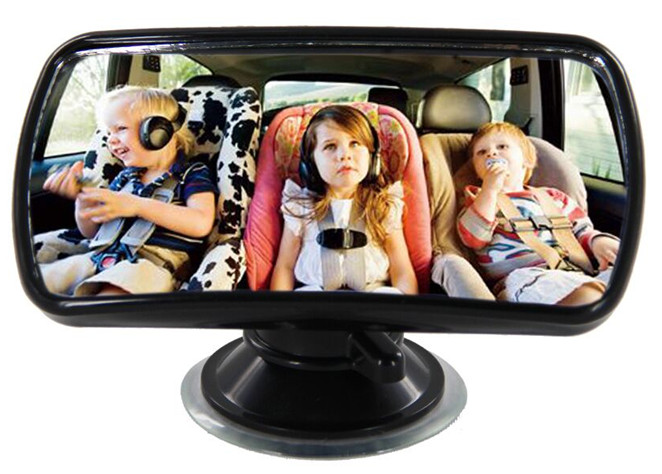 There are not many types of car seats but two of them are rather easy to single out.
The first type is extremely popular. Car mirrors that require an adjustable headrest to be applied fall into this category. As you have probably guessed, those that do not fall into the second one. This might seem simple to you, but it is a very important distinction in reality.
It is almost impossible to get a good baby car mirror that does not require a headrest to be installed. If your car seats do not have headrests, then you have to get a mirror of the second type.
Top 3 of Best Baby Rear View Mirrors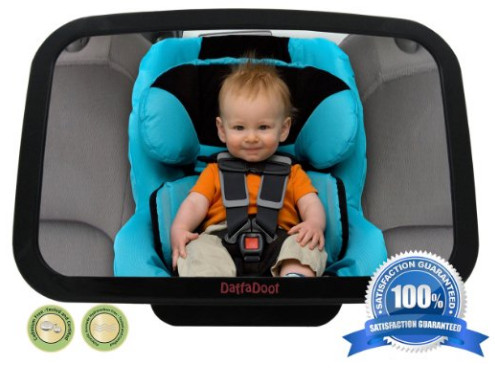 The DaffaDoot Baby Car Mirror has a feature any mirror installed in proximity of a baby should have. It is the shatter-proof safety glass. That said, unlike most mirrors of this kind, the DaffaDoot has a relatively large area that makes watching your baby much easier. The mirror's position is easily adjustable thanks to the 360-degree pivot ball.
If you except that the mirror comes disassembled and the process of installation will be a pain because you that, we are happy to inform you that that is simply not true. The mirror comes already assembled, all you have to do is to install it in your car.
The quality of the reflection is less important in general, at least, for the purpose of such mirrors, but the fact the reflection this mirror provides is outstanding is certainly a good bonus.
Since the mirror is very lightweight, it will never injure your baby even if it is just slapped onto the car seat and not installed properly. At the same time, it is sturdy enough.
>>> Check out this link to purchase the mirror on Amazon <<<
---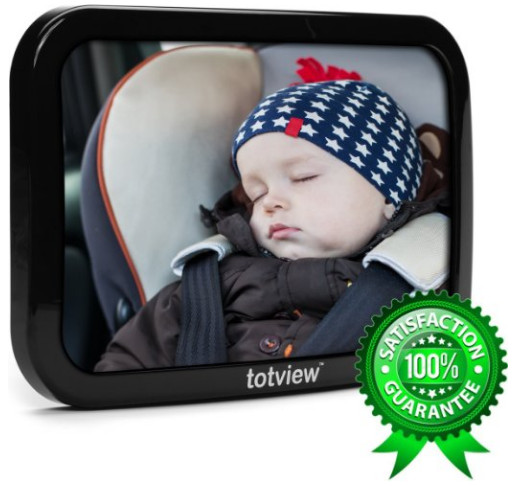 The totview® Extra-Large mirror is exactly just, extra-large. It is certainly much larger than the average rear-facing baby mirror, and it is also convex-shaped so that you could see even more. However, the size is not the only advantage is has, albeit a very important one. The mirror also does not cover up the rear windscreen at all despite being large. This is very important since people cannot even see what is happening behind their car all too often because of the blocked view. In addition, the mirror is not made of glass. It does, however, include a shatterproof acrylic material that makes the mirror completely safe for the baby even in the event of a car crash.
With the totview's mirror, you do not have to worry if the headrest in your vehicle is adjustable or not. This product fits any cars and trucks, regardless of the type of the headrest. It is also extremely easy to install.
As for the price, this mirror is not the cheapest one around yet still easy to afford.
>>> Check out this link to purchase the mirror on Amazon <<<
---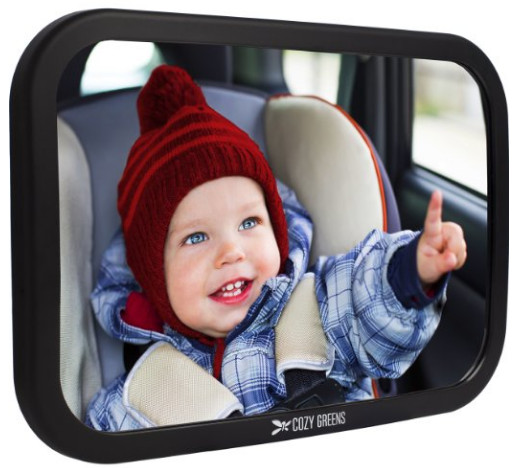 This mirror's designers apparently believed that a crystal clear reflection and a convex shape would be a winning combination. They were not wrong. The Baby Car Mirror from Cozy Greens is indeed very stylish and effective at the same time.
Of course, it is rather hard to make a poor baby mirror, just as it is hard to make one that would be really exceptional. Nevertheless, Cozy Greens have tried the latter and quite successfully at that, although most of the features are rather basic and typical for mirrors of this kind.
The mirror is shatterproof, made of polymer rather than glass but still very durable, and lightweight at the same time. The mirror has been thoroughly tested and has customers' approval.
Much like other mirrors, this one can be installed without assembling it first, and the installation process itself is incredibly simple to implement thanks to the Super Secure Strap System.
The mirror's price is moderate.
>>> Check out this link to purchase the mirror on Amazon <<<
---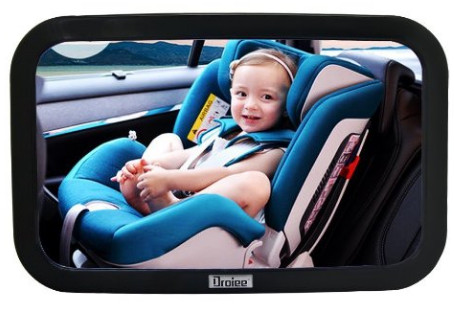 If there is something capable of attracting customers that most other mirrors do not have is the relatively low price. Other than that, everything is relatively standard. The mirror is shatterproof, mainly due to the material it is made of. It is also easy to position and does not obstruct the view from the rear windshield. That said, be advised that the mirror can be positioned in a way it would do just that.
The Droiee mirror is extremely easy to install and it fits most of the vehicles. The reflection is relatively clear but not quite as crystal clear as some other mirrors provide.
It is also not quite as lightweight as other mirrors. Not that it is too much of a disadvantage, after all, once the mirror is installed, its weight is of little consequence.
However, the fact this mirror is as inexpensive as it is makes its drawbacks less significant.
>>> Check out this link to purchase the mirror on Amazon <<<
---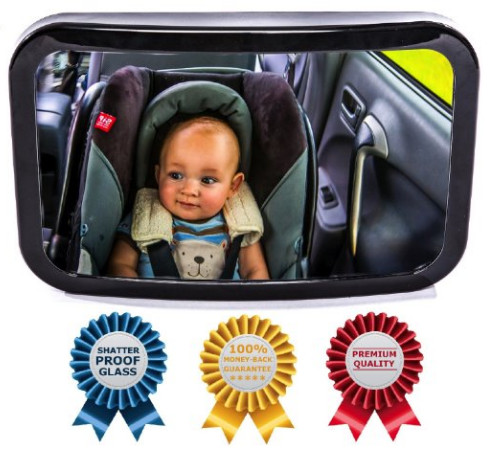 Now this mirror is exactly what every baby mirror should be. Naturally, it has the basic features but also some more.
First of all, it is easy to install.  Easier than some other "easy-to-install" mirrors, too. In fact, it should only take 30 seconds or even less. It goes without saying that the seat does not require assembly.
The reflection is clear, of course, and the surface of the mirror is made of polymers rather than glass. Not only is the mirror shatterproof and safe to use, it is also extremely durable.
A feature many mirrors lack is the ability to resist shaking. Indeed, the mirror from So Peep does not shake or slide off when in a moving car.
The So Peep mirror is safe, simple to use, secure and, on top of all that, extremely handy. At the same time, it is not really expensive and can be purchased for a moderate sum.
>>> Check out this link to purchase the mirror on Amazon <<<